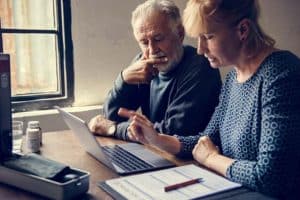 Fidelity Investments estimates that the average couple retiring today a will spend $280,000 on health care during the remainder of their lives. Most people are counting on Medicare to cover their health expenses as they age. Take a look below at some items that are not covered by Medicare:
Teeth, eyes and ears
Generally speaking, original Medicare does not cover dental work and routine vision or hearing care.
This means it does not cover dentures, which can run anywhere from about $1,000 to north of $5,000 for a complete set. And while a routine cleaning and X-ray could set you back about $200 and a filling runs about $150 or $200, a single tooth implant can be upward of $4,000.
However, if a dental condition involves an emergency or complicated procedure, it could be covered.
Same goes for routine vision checks. If you need glasses, it's generally not covered. Yet if you have an eye condition like glaucoma or cataracts, basic Medicare will cover your care.
Whether you choose an Advantage plan or stick with basic Medicare, you can purchase a separate policy that gives you more extensive coverage.
For the jet-setters
If your later-in-life plans include hopping from country to country, be aware that basic Medicare generally does not cover care you receive outside the United States.
A heart attack overseas or having to be transported by land or air can be extremely expensive.
If you choose an Advantage Plan, emergencies are often covered worldwide. However, routine care received overseas may not be.
In this situation, you can look into travel-medical policies specifically targeted at the 65-and-over crowd. Depending on the specifics of the coverage and your age, these policies can cost about $175 or more a month.
Long-term care
On average, an American turning 65 today will spend $138,000 in future long-term-care costs, according to a 2017 Bipartisan Policy Center report. Long-term care includes things like daily help with bathing and eating.
In general, Medicare does not cover long-term care. There are insurance policies that cover it, although they can be pricey. And the older you are, the more they cost.
For instance, rates for a couple, both age 55, would pay about $2,500 for a yearly policy that offers $164,000 in coverage to each policy holder, according to the American Association for Long-Term Care Insurance. If they are age 60, that amount stands at about $3,400.
Observation vs. admission
If you end up in the hospital, make sure you know whether you have been admitted or are there for observation. It can make a big difference in what Medicare pays for if your after-care involves skilled nursing.
Say you trip and fall and end up in the hospital. You're there for a few days. After you leave, you need rehab for your injury.
Such skilled nursing care is covered through Medicare Part A if you have been admitted to the hospital for at least three days. However, if the hospital keeps you there for observation instead of admitting you, your rehab would not be covered.
There are hospital indemnity plans that can cover up to $600 per day for a set number of days. Depending on your coverage, they can run about $35 a month and higher.
Loose ends
Medicare also generally does not cover acupuncture, cosmetic surgery or routine foot care.
Overall, the important thing is to head into your Medicare years armed with knowledge so you can avoid surprises. Make sure you plan in advance and speak with a knowledgeable Med-Care Senior Insurance Agent about all of the options you have with Medicare.